Are you looking for All Season Tyres for your vehicle?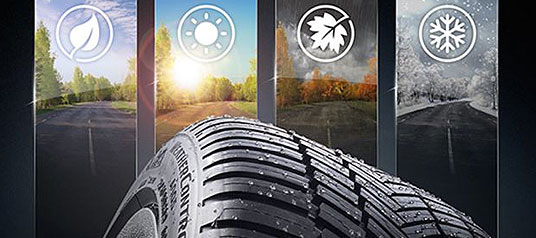 While seasonal tyres are designed to adapt to extremer weather conditions, all-season tyres are optimised to adapt to milder weather conditions and ensure year-round usage.
Combining the features of summer and winter variants, all-season tyres deliver a hybrid solution with the benefits of both. The all-adaptive tread compound and intermediate tread depth of all-season variants enable them to offer an improved driving experience and longer tyre service life. Moreover, equipping these variants will save you from the hassle of changing tyres bi-yearly; thus, you can avoid frequent and seasonal tyre refitting expenses.
Are you looking for all season tyres Coventry?
Consider visiting us at Star Performance Tyre Ltd.
We stock an enviable collection of car tyres Coventry that can match any vehicle irrespective of road and weather conditions.
Buy tyres online from us: To make your tyre purchasing experience hassle-free, we also provide an online tyre booking facility. You can easily buy all-season car tyres Coventry from us online by entering your vehicle registration or tyre size data on the tyre finder.
Features that make all-season tyres unique
Tread compound
All season tyres Coventry are manufactured with an intermediate tread compound that offers increased traction and control in mild weather conditions. Moreover, all-season variants come with an innovative and durable tread design that ensures prolonged tyre service life.
Tread depth
Their moderate tread depth enables them to adapt to various weather conditions, as long as they aren't too extreme.
The tread depth of these tyres is thinner than winter variants and optimise traction and handling on mild snow-covered roads. On the other hand, these variants have a thicker tread depth than summer tyres, thereby ensuring enhanced grip on wet surfaces.
Tread pattern
All-season variants are designed with a unique tread pattern and have specially optimised tread blocks that ensure effective water evacuation, reducing the risks of hydroplaning.
Our collection of tyre brands
At Star Performance Tyre, quality is our first priority. Hence, we retail tyres from some of the best-selling premium, mid-range and budget brands, like:
Dunlop Tyres
Goodyear Tyres
Continental Tyres
Bridgestone Tyres
Firestone Tyres
Prestivo Tyres
Maxxis Tyres, and many, many more...
With so many tyre brands available at our garage, you need not search any further for all-season tyres near me.
Visit us at 104-106 Holbrook Lane, Coventry, CV6 4BH for top-notch car products at competitive prices or call us on 0247 666 6263 regarding any query.